The two most popular types of waist trainers are latex and neoprene waist trainers. Do you know the difference between the two of them? If you are not really sure what is the main difference, keep on reading because in this article, you will get the opportunity to find out more.
Latex waist trainers have been popular years ago and neoprene waist trainer is stepping on the scene right now. But, what is the reason why people are now obsessing over neoprene waist trainers? There are many reasons!
Fabric plays the big role when it comes to waist trainers and it is important to know which type of fabric will suit you the best before purchasing the waist trainer.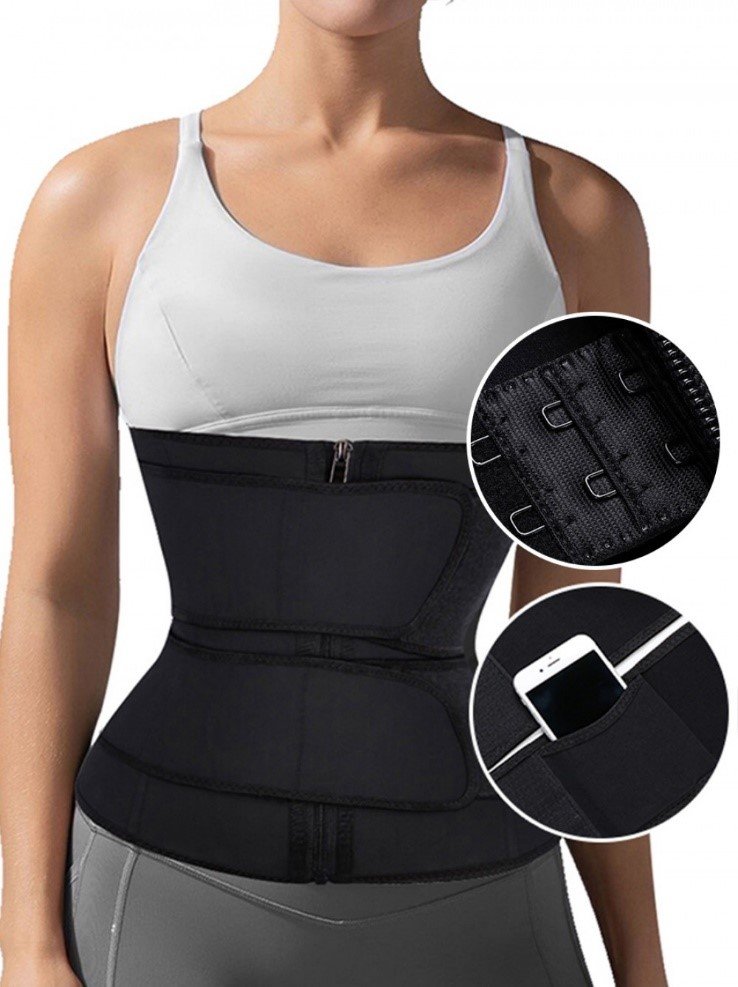 If you are someone who is just starting out with using waist trainers, the neoprene waist trainer might be the right choice for you. The first reason is that it is way more flexible than latex waist trainer. It hugs your body and shapes it in the same way. You won't feel uncomfortable or like you are trapped into the waist trainer. The whole experience of wearing waist trainers for beginners is better when they use neoprene waist trainers. Some neoprene waist trainers still have the outside part made out of latex but it doesn't affect the part that is touching the body. Still, it will be really comfortable. Neoprene waist trainers are, in general, way more stretchy and expandable.
They are both great for working out but still, if you aren't used to feeling the firm compression, the neoprene waist trainer is the better choice for you.
The second reason why some women prefer neoprene waist trainers is the fact that they are lightweight and when you touch it – the material feels so soft. It also affects the experience of wearing it.
Latex, on the other hand is much thicker and it is not as lightweight as the neoprene waist trainers are. It is a strong material which is considered to be really durable so many customers and buyers say the latex waist trainers last them for years. That makes the customers satisfied with the quality. In general, this material is really high quality. But, it offers way more compression than neoprene waist trainers. That's why it is probably more uncomfortable. It might be hard to be patient with it in the beginning when it is still adjusting your body.
But, since latex waist trainers have been longer on the scene of waist trainers, there are many loyal and satisfied buyers of these waist trainers.
The best thing about neoprene waist trainer is that they are safe alternative to those who had bad experiences with latex waist trainers. They are safe when it comes to causing allergies. This material is way better for people with IV type of skin allergies. That might be the third reason, but not the least important one, why people are starting to choose neoprene over latex waist trainers recently.
Experiences are, of course different, and everybody has their own preferences. That's why you should always do the research first, before stepping into the world of waist trainers. Find out which one would you and your body appreciate and love more and then go for that material.
These were the main differences between these two types of materials. There are, of course, differences in the way they look but sometimes they can look so similar it would be hard to understand which one is neoprene and which is latex.
Anyway, touching the material can tell you which material is that. Neoprene is softer and more lightweight, while latex is strong and firm. That might be helpful if you are going shopping for wholesale waist trainers.
Don't forget that the best way of shopping is definitely online shopping, especially in this situation with the pandemic. Lover-Beauty has every possible type of waist trainers that you could wish for so don't forget to check out the web shop of Lover-Beauty and find your next or the first waist trainer.
The prices will surprise you so much that you will be starting to make a collection of your waist trainers, if that's something you love and that you are passionate about. Lover-Beauty is the place you were looking for! They have many satisfied customers and their customers always come back to buy more which is the proof of the high quality of their products and services.
It is hard to trust the web shops online but Lover-Beauty is a trust-worthy web shop and you will definitely be satisfied and pleased with your order, if you decide to purchase something from their web shop. They always have good deals and good prices, so be sure to check them out right away and buy yourself the waist trainer you have always wanted but never had the opportunity to buy it!