Bodysuits have become quite the outfit staple, especially during the warm summer months. When it comes to styling a bodysuit, it's easy to pair them with skirts, jeans, shorts or even more formal pants. You can dress bodysuits up or down and top them off with fun accessories, blazers and jackets.
But have you ever wondered whether or not you could pull a swimsuit off as a bodysuit? Well, surprisingly, you absolutely can—especially because swimsuit outfits are going to be a big hit this summer. What are swimsuit outfits? They are basically outfits that are created around your favorite swimsuit. And, swimsuits are also very close to being bodysuits themselves, which make styling them as bodysuits all the more easier. So, if you have a favorite one-piece swimsuit that you want to wear beyond the beach or the pool, get it out and let's see how we can style it!
Aside from swimsuits also being able to be styled as a bodysuit, they might actually make a better bodysuit during the summer because swimsuits absorb moisture well and don't show it. With your typical bodysuit, you may find that you sweat through it or have noticeable sweat marks during the day. However, with a swimsuit, even if you sweat, you may not be able to notice because of the material.
How to Style a Bathing Suit as a Bodysuit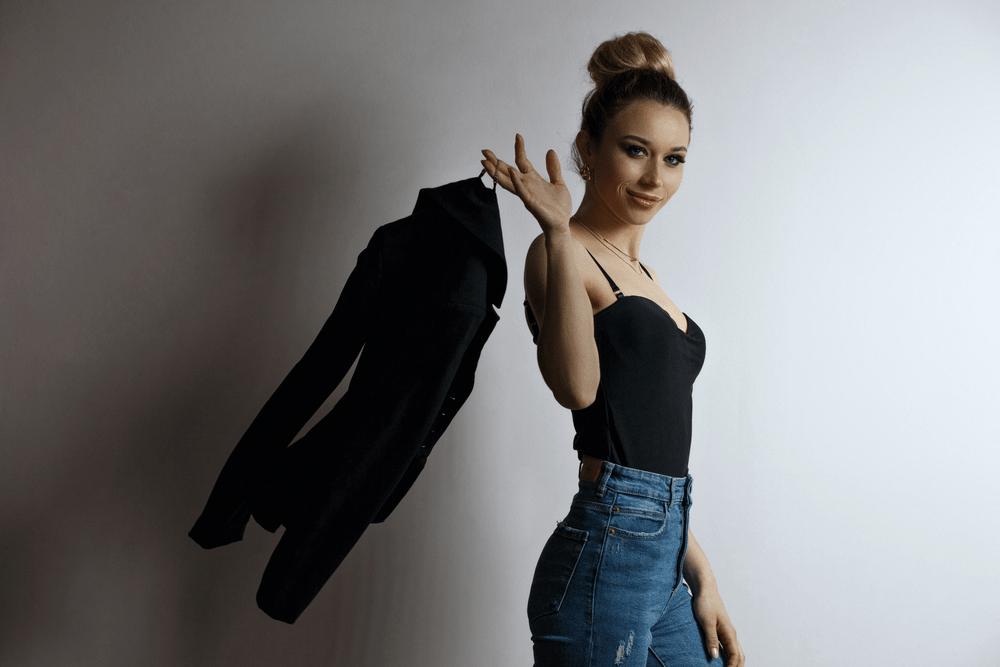 Long story short, you can style your bathing suit just how you would style your favorite bodysuit, but we're going to show you how to achieve a flattering and fashion-forward style every time. And if you're still wondering how to wear a bodysuit, you can easily implement these styling techniques to create a stunning outfit with a bodysuit, too.
Bathing Suit + Skinny Jeans
Bodysuits pair so well with jeans because they contour your curves just right. But can a bathing suit do the same? Yes! When you are styling a bathing suit as a bodysuit with jeans, stick to cute one-piece swimsuits that are more sleek and thin. Jeans will show every detail so it's best to make sure your swimsuit is minimal and curve-hugging. Your swimsuit can have a plunging neckline or it could be a halter. Top off your look with dainty gold jewelry. If you need to dress up the look, you can add a blazer or a cardigan.
 Bathing Suit + Denim Skirt
If you're looking for a quick way to turn your favorite one-piece into an outfit, top your suit off with one of your favorite cute skirts. Denim skirts make the perfect addition to a one-piece swimsuit because they are instantly flattering and ideal for summer. Slip on some cute pool slides for a laid-back vibe or a pair of strappy sandals or mules for an elevated look.
Bathing Suit + Cut Off Shorts
Whether you are leaving the beach and heading to the bar or you're out to brunch and on your way to the pool after, throw on some cut off shorts for an easy breezy look. Your swimsuit will look great with a pair of high waisted shorts. You can top this look off with a pair of espadrilles or cute wedges to elongate your figure. A wide brimmed hat is also a cute accessory to wear with this outfit.
Bathing Suit + Wide Leg Pants
If you have a beautiful and sleek one-piece swimsuit and you want to elevate it and turn it into a more formal look, you could pair your swimsuit with a pair of high waisted, wide leg pants. Stick to a swimsuit that's monochromatic in color and curve-hugging. You can top off this look with a cape or a blazer.
Bathing Suit + Mom Jeans
Are you wanting to create a more laid-back look with your one-piece? Top your suit off with a pair of mom jeans. This look is very flexible because mom jeans are forgiving and baggy. You can wear virtually any one-piece with these jeans. Cinch your waist by adding a belt and top your ultra-trendy look off with some sunglasses.
Bathing Suit + Linen Pants
If you want to create a beachy look that's effortlessly stylish, we love the idea of pairing a beige or neutral-colored one-piece with a pair of white linen pants. This look will keep you cool while also giving you that ultimate fashionista vibe. Top this look off with a floppy hat and a statement crossbody bag.
Bathing Suit + Midi Skirt
Dress up your favorite one-piece swimsuit with a bold-printed midi slip skirt. Midi slip skirts are more fitted at the top and flow out more toward the bottom, which is why it's important to prioritize a sleek and curve-hugging swimsuit to style under the skirt. You can add accessories like a belt to the waist or dainty jewelry to elevate the look. You can also top off this outfit with a pair of heels.
Now that you have all of these bodysuit and swimsuit styling techniques in your back pocket, you can create endless summer looks that utilize your favorite bathing suits and staple pieces. Like we said, bodysuits and swimsuits are so similar, so even if you feel strange sporting a bathing suit instead of your average bodysuit, go forth confidently and rock your look! No one will be able to tell the difference!