With things opening back, more people are traveling than ever — but it can be tough to remember what you usually pack if it's been a minute since you took a long trip. To help you get started, we've put together a packing guide for your next vacation that covers everything from quality skincare sets to airplane pillows. Here's what you need to pack for your next trip, broken down by category:
Clothing
What clothing you pack will depend a lot on your destination as well as how long you are traveling and what activities you have planned. A week of backpacking in the Alps requires completely different clothing than a long weekend at a beach resort in Cancun. In general, we recommend packing one casual outfit per day featuring versatile pieces that can be dressed up or down. Choose lightweight clothing that can be layered according to the weather and bring at least one jacket. We also recommend packing at least one nice outfit unless you know that you definitely won't be going with a dress code.
You should also pack pajamas and enough socks and underwear for each day, plus a couple extra pairs in your carryon in case your luggage goes missing. We also suggest bringing at least one swimsuit, and two swimsuits if you plan to get in the water each day so they can dry out between wears. We also recommend bringing at least two pairs of shoes, one pair of comfortable walking shoes and one pair of dressier shoes for going out to dinner. You may also need other footwear depending on your plans; for instance, sandals are a must for a beach vacation. You may also wish to pack certain accessories such as scarves, hats, bandanas, sunglasses, jewelry, and more.
Toiletries
Even if you are planning to check a bag, we recommend choosing travel size skincare kits to save on space and weight in your luggage, unless you are going for a very long trip and won't be able to buy certain toiletries once you arrive. Then it might be worthwhile to pack the full-size version, but even so you'll need to make sure your bag stays under the weight limit.
Toiletry essentials include toothpaste, toothbrush, mouthwash, floss, deodorant, shampoo, conditioner, body wash, body lotion, lip balm, hand cream, and sunscreen. Depending on what skincare products you use, you might be able to buy them in travel size or transfer them to mini toiletry bottles. If you wear makeup, you will also want to pack those products as well as some makeup removers so you can wash your face at night.
If you wear glasses, pack those in a protected case and bring some eye glasses cleaner as well. If you wear contacts, bring those as well as a backup pair in addition to your contact case and solution. If you are on any prescription medications, pack those in your carryon, so they can't get lost, and bring your script in case you get questioned by the TSA. We also recommend bringing common over-the-counter medications with you such as pain relievers and cold medicines. You might also wish to bring a first aid kit so that you have it on hand.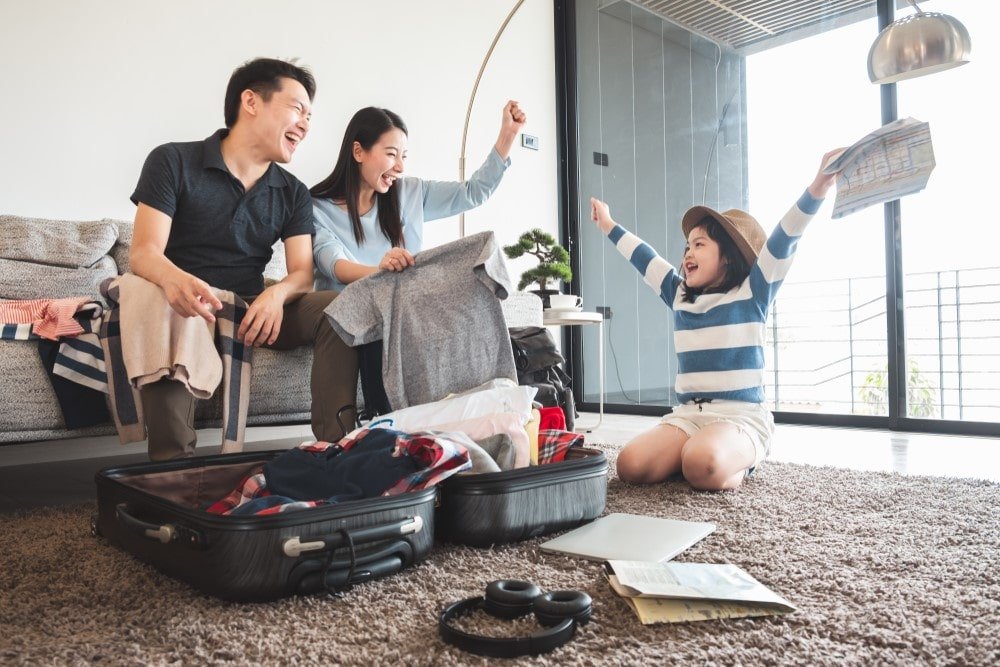 Travel Documents
When you travel, you will need your ID card and probably your passport and a visa as well. Make sure to bring cash and credit cards and inform your banks that you are traveling beforehand so your cards aren't frozen. You should also bring insurance cards, not just health insurance but also any travel insurance that you have.
If you are a member of any flight, hotel, or travel loyalty plans, you should bring those cards too. You should also pack hard copies of all your travel documentation, including reservations and itineraries, hotel contact information, tour contact information, transportation tickets, guidebooks, and maps. Also have copies of emergency contact information in case a situation arises.
Technology and Entertainment
At a minimum, you will want to bring your cell phone and all relevant chargers and accessories. However, most people also like to bring a laptop, tablet, or e-reader (or all three) in addition to just their phones. We recommend bringing an electronics organizer to help keep the charging cords and accessories organized. Some people also like to bring a separate camera or GoPro so they can capture high-quality photos and videos on their trip.
We recommend downloading entertainment beforehand so you can read or watch media even if you don't have a cell phone or Wi-Fi signal.You will also want to bring a pair of headphones with you, ideally some noise-canceling ones that will help you sleep. If you are traveling internationally, we also highly suggest packing a power converter or adapter so you don't have to find one as soon as you land.
Travel Accessories
Having the right travel accessories can make or break your trip. At a minimum, we recommend bringing a travel blanket, travel pillow, eye mask, and ear plugs so you can sleep on the plane. You'll also want to bring a water bottle that you can fill up after going through airport security.  Planes are known to be very dehydrating, so a lot of people also like to pack lip balm and hand cream in their carryon to fight dry skin. You should pack hand sanitizer and antibacterial wipes so you can clean your seat at the beginning of the flight. What are your other must-have items for traveling? Do you have any expert tips for packing your luggage or fitting everything into a carryon? Let us know in the comments below!