Time after time Mid Block Heel Sandals come back on trend for Spring and Summer, this year is certainly no different. The fact these sandals come back time and time again is solid proof that this shoe style is a good investment, no need to fear them being a one hit wonder and wasting the pennies. There are many variations of this shoe on the High Street to suit everyone, age or personal style preference is not an obstacle here! Whether you're shopping for Going Out Shoes or something more casual, these Sandals can meet the requirements. Continue reading to discover why every woman should have a pair of these block heels as a staple item in their wardrobe for 2022.
Most Importantly they're On Trend
It's no surprise to hear that Mid-block heels are back in fashion for Spring Summer 2022. There are many variations of this style that have been big across the runway. The fluffy trend has been showcased by top designers such as Fendi, Altuzarra and Maryam Nassir, meanwhile the more conventional Lace-up trend is hotter than ever right now. Other trending shoe features to note for the mid-block heel are ankle chain straps, lots of straps, the colour orange and big soles.
They are Comfortable to Wear
Who said comfy heels aren't fashionable. XY London Talliah square toe mules prove this is certainly not true, there's plenty of trending styles that are both stylish and comfortable. Either a flared heel or standard mid-block heel will do, the flared trend has gone viral with many of the best influencers wearing this look. As this heel is extremely sturdy it makes them ideal for work wear, and for during the daytime. Mules are great for casual occasions, and for work to afterwork drinks. Strappy styles are the perfect Going Out Shoes, style with a micro mini skirt and satin crop top and you'll be ready to hit the clubs in comfort.
They can be Edgy
The ornate heel trend has really taken hold with the mid block, this has seen heels evolve from a standard block shape to triangles, cylinders, flared, to name just a few. Dahlia heels have combined a triangle block heel, with a vinyl front strap, and cross over ankle strap, these shoes work perfectly with busy patterned dresses or tops. As well as the ornate heel trend, bright colours, laces that tie up all the way to the knee, fluffy materials, square toes, and ankle chain details are all ways these heels can be worn in an edgy way.
They can be Elegant Going Out Shoes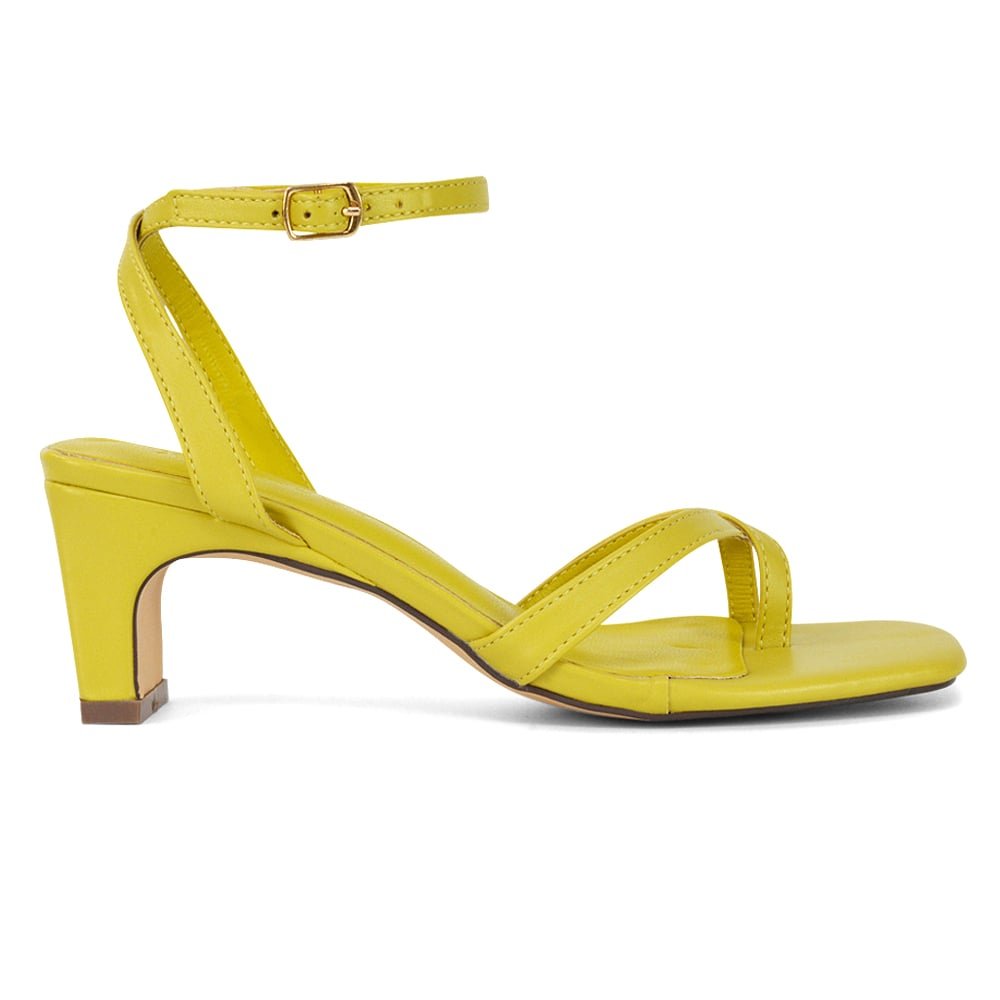 Just as this heel can be easily made edgy, they're so versatile that they can be transformed into elegant styles that are equally ready for a prom night too. Choose shoes with a wide but slim block heel shape, with thin straps, and delicate buckles to achieve the ultimate elegant look just like XY London August Sandals pictured above. An important rule of thumb when aiming for elegance is to always go for thin barely-there straps.
Mid Block Heel Sandals are Ideal for Weddings
Whether you are the bride, bridesmaid, mother of the bride, or wedding guest these comfortable heels are perfect for a long day of standing and dancing. It's not only comfort that makes these shoes perfectly suited to weddings, but their chic also elegant look is the reason most women opt for this style. If you're the bride or bridesmaid there's no need to suffer wearing sky high heels, you won't see them under a long wedding dress or bridesmaid dress so it's wise to stick to something comfier. For mothers of the bride and wedding guests these special occasion heels are great for styling with many different outfits.
They Can Be Worn for Multi Purposes
There are so many variations of Mid Block Heel Sandals, there's a style for every occasion whether that be casual day wear or special occasions. Slip on styles like mules with a chunky heel are like wearing slippers so they're perfect for every day. If you're looking for your dream holiday sandals, styles like Stassie Sandals with woven straps and lace up details are ideal. If it's formal shoes for special occasions or for work wear, go for simple strappy sandals in black.
To Conclude
If you don't already have a pair of Mid Block Heel Sandals in your wardrobe, we think this article may have changed your mind. So many variations of this shoe style are trending for Spring Summer 2022, with features such a fluffy, lace up, bright colours, ankle chains being showcased on the runway. Due to the height and stability of this heel type it makes them super comfortable, ideal for everyday wear, weddings, special occasions etc. What more could you want?