Gold jewellery has always been an integral part of our Indian culture. From the day we were born to our birthdays, weddings, anniversaries, or any other functions, gold has always been considered precious and auspicious to wear. However, even if you are not a great fan of carrying jewellery, elegant and quirky gold rings are a favourite for all of us.
You might have a perfect outfit and shoes for every upcoming occasion, but you would also need some exquisite gold rings to make your style pop even more.
Some people like single-stoned rings, while others are fans of multiple stones. Some desire sparkly yellow gold and others go for the elegance of rose gold. Well, don't worry! Mia by Tanishq brings a wide variety of gold rings to match all your moods.
Let's take a look at the collection of gold rings from Mia by Tanishq for you to choose from.
Bubble-Shaped Gold Finger Ring
Glistening with dazzling diamonds on top, this bubble patterned yellow gold ring shouts elegance in bold. Put on this chic bubble ring with a sassy knee-length dress and cool stilettos on a casual outing with your friends and pour a dash of boldness wherever you go.
Beauty of the Tides- Yellow Gold Ring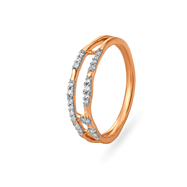 Make this trendy abstract gold ring a staple of your collection. The abstract shape of this ring denotes the ocean pulling away from the shore, leaving a smooth transient path that you can tread. Pair this exclusive beauty with a long skirt and a pair of gold earrings to look and feel distinguished at an evening party.
Yellow Gold Stylish Open Top Ring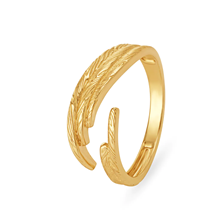 The authenticity of this exquisite open-top gold ring will continue to inspire you to embrace your original self every time you put it on. What makes it quirky is the perfect blend of modern technique and creativity that went into making it. Easy to slide in, this open-top gold ring is capable of attracting the attention of people around. Don it with formals or your favorite Kurti, and let it flaunt its magic.
Diamond Studded Leaf-Inspired Gold Ring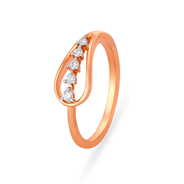 The perfectly aligned diamonds on top of a tasteful rose gold ring will make your hand look more oriented and poised. Inspired by pointed leaves, this ring will bring you closer to nature. Style this piece of elegance with a flowy white dress and a pair of gold stud earrings to rock your outings.
Gold Band with Solitaire
An exclusive solitaire sitting on top of a gold band can be elegantly added to your everyday fashion. Being traditional and classy at the same time, this gold ring would truly stand for your sophisticated yet classic demeanor. This gold ring can be an excellent choice for Valentine's Day or an anniversary. Moreover, it can also be a great piece you can give yourself.
Ripple Shaped Gold Finger Ring
Symbolizing the circular movement of the ocean and that of life, this rippled gold ring is a fashion statement in itself. Put this magical gold ring on with a suave designer saree or a formal blazer to outshine everywhere.
Where to look for these amazing and authentic gold rings?
Gold rings have always been worn all around the world as a fashion statement. However, with time and the coming of modern technologies come modern designs. That is why it is important to buy jewellery that is trending timelessly.
You can get hundreds of such distinctive gold rings on Mia by Tanishq. Tanishq is a trusted brand with an extensive range of designs to match your moods and needs. You can get everything from sophisticated daily wear to bold party wear at Mia by Tanishq.