Greetings beautiful ladies!
As we all know, in India, a wedding does not simply finish with the wedding ceremony; it includes everything from the engagement to the Haldi event, Mehandi ceremony, Sangeet night, and reception after the wedding, among other things.
We want to look our best at every event, but isn't it a little stressful? Especially when it comes to the reception look, because the reception is usually the last event after the wedding, and we often forget about it during the wedding ceremony preparation.
If you've ever experienced this, don't worry, we can feel you.
Because of the exhaustion, getting ready for the reception after a wedding is always a challenge.
Perhaps this is why, because gowns are so convenient and easy to carry, wearing one in reception is becoming very fashionable these days. But at the same time, we all know that evening gowns have their grandeur, which is why we devote so much time, effort, and thought to find the ideal style.
When it comes to hairstyles that may be worn with a gown, though, things get a little more complicated. You'll want something that matches your stunning gown while keeping the spotlight on it.
We all know that our Bollywood divas are always on point when it comes to the best look and perfect hairstyles so today in this blog, we will also be covering gown hairstyles for girls for wedding (inspired by Bollywood).
So, ladies, how is the josh?
Low Ponytails
What do you think about this elegant look of our Desi girl Priyanka Chopra?
These days when convenient and independent fashion is on top, our old low ponytails, our sleepy and tired day friend, have evolved a lot and surprisingly these days pair up with stunning gowns by styling them with semi curls or straight and it appears amazing that you can't take your eyes off.
These simple and elegant ponytails will enhance the beauty of your gown.
So, I'm sure you're as impressed as I am with this classic low ponytail, so did you save this for your gown look?
Top Knot Bun
Are you still awestruck by this gorgeous look of Deepika Padukone? And these stunning top knot buns are best combined with a velvety, elegant gown with miles of frills.
You'll be glad to know that it gives your face more height, which will come in helpful when styling an off-shoulder gown to highlight your neck and perfectly shaped shoulders.
If this looks would be great for your style, go ahead and bookmark it right now.
Retro Curls
Remember Anushka Sharma's fascinating reception look?
Some hairstyles never go out of fashion and present you with one of the vintage hairstyles these curls. This wavy retro hair and your beautiful wedding gown are a complete vibe. And, simply, you can style at home. There are two methods: pin curl and styling look.
We can make sure that this vintage charm will make you talk of the party!
Classic Bun
Did you also skip a breath while looking at this glamorous picture of Sonam Kapoor?
So, this classic bun look is inspired by Sonam Kapoor's award show look. Sometimes simple hairstyle can make you look charming and elegant as this one.
You can adore it with florals or pearls or other feminine hairbands. So ready to shine in this classic yet easy hairstyle?
Half Up With Braids
I'm sure you remember Alia Bhatt's stunning outfit, don't you? But have you noticed the hairdo, which is simple but elegant?
This look has a half-tied braid and half-down wavy curls. So, if you're tired of buns and want to go for something exciting and fun, isn't this great to go look for you?
High Retro Ponytail
Another style inspired by our Bollywood queen's Met Gala ensemble. This is a high retro Barbie ponytail; don't you think it's incredibly eye-catching and flawless?
No one will be able to take their gaze away from you in your stunning pink wedding gown and retro hairstyle.
So, are you ready to try this highly unique and trendy look?
Light Curl Waves
Inspired by Katrina Kaif's elegant look, one of Bollywood's most gorgeous actresses. Are you up for this look? This is an exquisite appearing light wavy curls that blend wonderfully with your fashionable gown. This look is very trendy these days as it gives a very classy appearance. 
Messy Side Bun
This messy side bun, which is highly popular these days and was inspired by Alia Bhatt's incredibly attractive look, can give you the right appearance on your very special day.
You can even adorn it with pearls for a more pleasing appearance. So, are you ready to rock this adorable bun hairstyle?
Braid Hairstyle
Isn't this charming look of Disha Patani? So are you also a braid lover and looking for some braided look then girl this can be your hairstyle with gown.
It can easily be dressed up with pearls and florals. So, with your plain gown and rich braid hairstyle, are you ready to make a glamorous look?
Sexy Straight Hair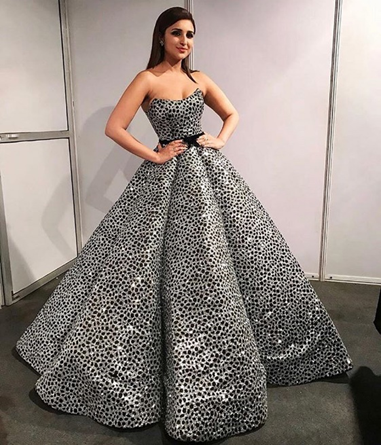 Do you think Pareeniti Chopra's appearance is glamorous and bold? So the perfect straight hair for every perfect-looking lady.
A magnificent gown and excellent straight hair is an all-time favourite and trendy appearance, so if you think straight hair will make your presence more valuable, then this is the look for you.
Hope you get some value from our blog. See you in the next blog, have a good day our lovely readers!